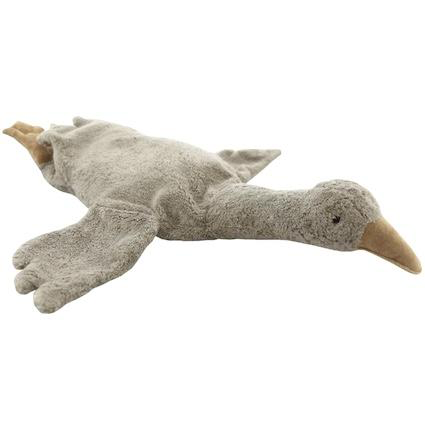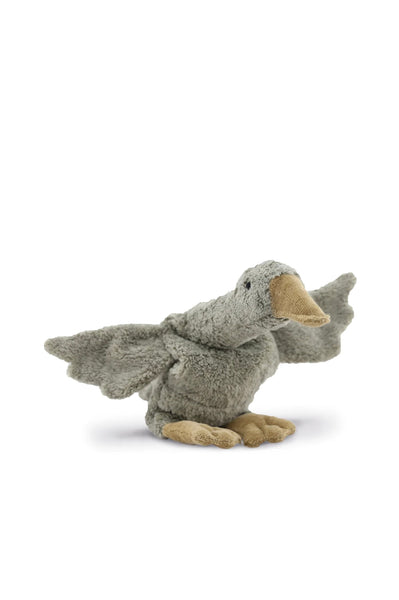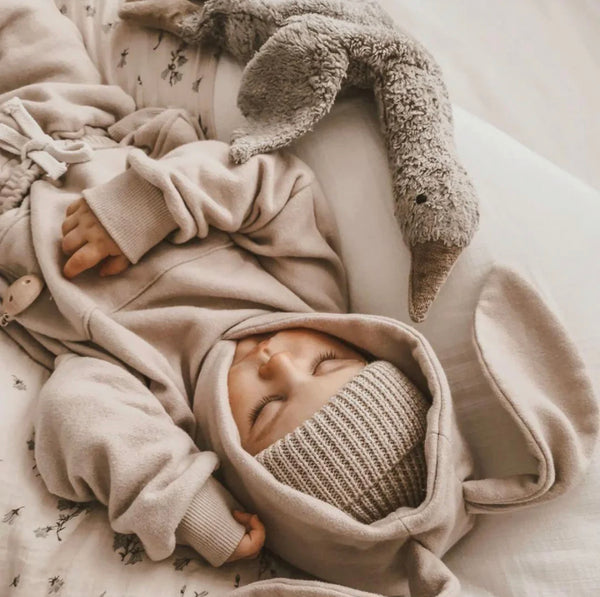 Organic Small- Grey goose
SENGER Cuddly Animal - Goose Small Grey Vegan w removable Heat/Cool Pack
The SENGER Cuddly animal Small Goose is a vegan product- the stuffing is made from cotton, with a removable cushion filled with Grape Seeds, the outer from cotton, and no animal products have been used (eg wool).
The SENGER Cuddly Small Goose is a soft and cuddly toy that doubles as a weighted toy and a gentle heat bag for children. 
The SENGER Small Goose has a removable pillow, filled with Grape Seeds that can be placed in the oven or microwave to heat, or in the fridge to cool. Once it has reached the desired temperature, simply place back inside the zippered pouch. Perfect for those cold nights in winter or when someone is sick with a belly ache.
The weight of the grape seeds filling acts to provide a calming effect and give your little one sensory feedback.  Warmth and weight, the perfect combo.


Handmade and beautiful, soft toys made from the finest of natural materials including pure sheep's wool and organic cotton. SENGER toys are made to last a lifetime, by a company committed to high levels of workmanship, sustainability and supporting local suppliers wherever possible.
Made in: Germany
Outer: Organic Cotton Plush, free from pollutants and meeting strict quality and safety controls.
Filling: Cotton (except the removable cushion - see below)
Removable Cushion: Cotton outer, filled with grape seeds for warming
Size: L 37cm W 11cm H 47cm
Awards: Play well - 2022
Weight: 300g
How do I Warm or Cool my Senger Cuddly Animal?
To heat your cherry stone or grape seed pillow: ½-1 minute in the microwave at a maximum of 600W, or 3-5 minutes in the oven at 75 degrees.
To heat your spelt pillow: Environmentally friendly on a safe heater, cuddled with love, or 2-3 minutes at 75 degrees in the oven. NEVER the microwave.
To cool your pillow: Place pillow only in the fridge for several hours or overnight. While cooling in the fridge, keep cuddling your friend for comfort.


Caring for my SENGER Friend
Your SENGER Friend is made from natural materials. The Cotton Plush is organic, and all white plush is undyed. When dyes are used, they are as friendly as possible. Your friend is filled with pure sheeps wool.
In other words, we keep things as close to nature as possible. And nature needs special care.
X 
WARNING: Fire Danger, risk of fire if overheated.
WARNING: Do not overheat, risk of burns to the skin or the risk of overheating in newborns
To Heat: Please remove the grape seed pillow through the cuddly toy's belly and heat it either in the microwave for approx. ½-1 minute at a maximum of 600W or in the oven at 75 degrees for around 3-5 minutes.  When heated, the grape seed pillow should be warm to the touch, the same as body temperature - a living, soothing warmth, never hot to the touch. Refer to warnings above, and only ever heat the removable pillow, not the entire toy.
To Cool: Place in the fridge to cool, and can then be used to soothe when a cooling effect is needed.
Usage: A soft and cuddly toy that doubles as a gentle heat bag for children, and can be used as a weighted blanket.
Quality & Safety: Made from organic plush cotton, and filled cotton and Grape Seeds, free from pollutants and meeting strict quality and safety controls.