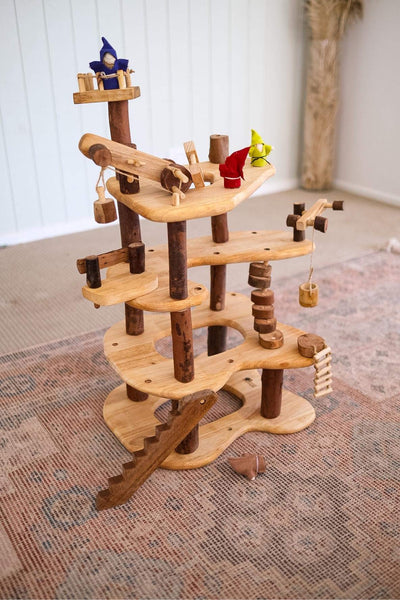 Three level wooden tree house
Regular price
$136.00
Sale price
$89.00
---
The newest multilevel tree house providing hours of imaginative play. Made from sustainable timbers and handcrafted.
Being open-ended it is suitable for more than one child to play with at at time, and the child's imagination can transform it into a forest fort, a fairy home, an animals playground. Each Buildable Tree House comes with retractable stairs, crane kit and load, balcony, crow's nest, rope ladder and spiral stairs. It can be mounted in a variety of different ways offering a range of rooms, play areas and spaces to spark your child's imagination.
Made from alder, hazel, white beech, pine; surface oiled with linseed oil.
Product Dimensions: 40cm(L) x 33cm(W) x 55cm(H) – Weight: 6.5 kg
Box Dimensions: 41cm(L) x 36cm(W) x 13cm(H) – Weight: 6.6 kg
Extra shipping charges may apply. This is a heavy and bulky item.